Place to Grow returned to Kesennuma on June 17th to make more crafts with the children at Asobiba.
Our agenda for the afternoon consisted of three activities:
1) Bingo games with summer-related words in English
2) Father's Day decoration making
3) Bouncy-ball making
When volunteers Aki, Kayleigh and Lucia arrived at Asobiba we were greeted by children on the playground by two donkeys that they take care of.
While the children were having late lunch we prepared for the workshop beside them. They were so curious as they watched us dissolving a large amount of salt into bottled water, which was to be used later in the day.
BY THE NUMBERS
---
11: Local Children
3: Local Adults
3: PTG Volunteers
After a brief introduction of everyone in the room, we got right into Bingo games. Kayleigh, an American student who is living in Minami Sanriku for the early part of summer, was the caller. "A T-shirt", "Camping", "Vacation", "Sun-tan Lotion" …she read aloud then showed the picture cards: "Bingo!" The first winner was a grandma who volunteers at Asobiba. There was much excitement and a lot of shouting as many of the participants got closer to winning. We played two rounds and everyone had at least one Bingo win, and received a small prize of snacks and balloons, which turned out to be quite popular for the rest of the workshop.
We then moved onto the Father's Day crafts. Using scratch paper, colored paper, origami, pens and crayons, children created a decoration they can hang on the wall at home. One boy said "my dad is going out for drinks tonight, he loves beer" and drew a picture of beer. A girl wrote words of encouragement for her dad. Another boy whose dad is a fisherman drew a boat and fish. Representative Director of Asobiba, Ms. Miyoko partnered with young kids who needed help with ideas and cutting out origami into hearts and stars.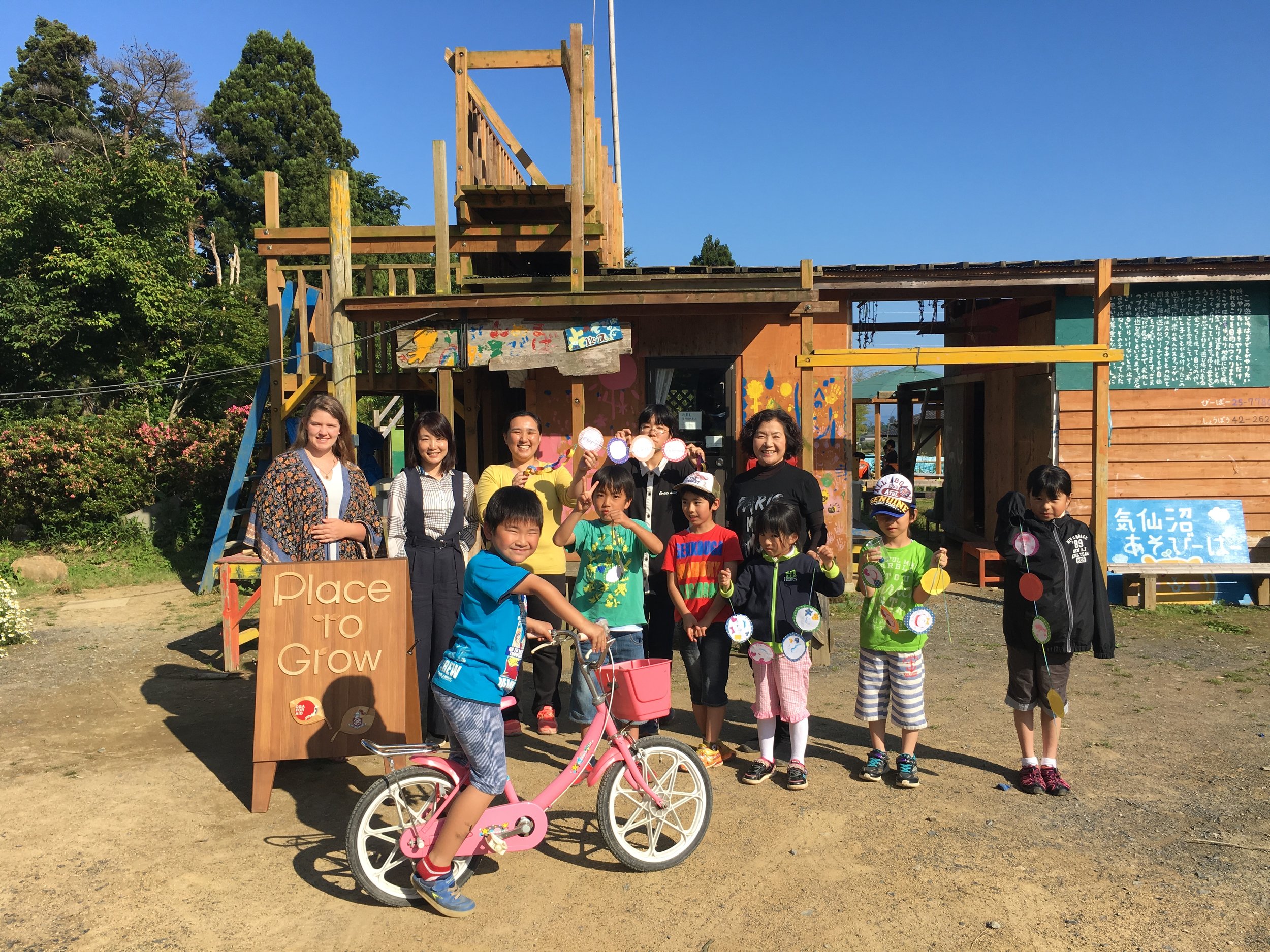 The last item on our agenda was to get messy making bouncy balls from laundry starch and the saturated brine that we prepared before the workshop. It was tricky to make the ball into just the right firmness, Aki got busy teaching everyone being the only person who had made it before. Before the balls were dry they were slimy, which prompted one of the boys to make a request at the very end, "I want to make slime next time!" Then off he went to play outside.
It was nice to see some of the same kids participate again. They are such an active group of children and we truly appreciated their enthusiasm.